ESCAPE TO PARADISE
Experience the best that Bali has to offer from the comfort and peace of your private luxury villa.
RELAX
Allow our staff to extend you their famous Balinese hospitality – you will never want to leave.
RISE AND SHINE
Wake up to a view that will soothe your soul.
REFRESH YOUR SENSES
Pools to dive into, grass to lie on, stars to gaze at…
LOCATION, LOCATION, LOCATION
Five minutes drive from some of Bali's most stunning beaches, bars and restaurants.
VILLA BAYU, THE BUKIT, BALI
Villa Bayu is your ultimate getaway location.   Peaceful, private, luxurious and spacious it abounds with both Balinese charm and modern tropical elegance. There is something here for everyone, in terms of flexibility of room choice – we offer six, four, or two bedroom options – the huge breadth of facilities at the villa and our superb location.
With the addition of our wonderful staff, you will have everything you need for a completely relaxing, fun and memorable holiday.
We very much look forward to extending our Balinese hospitality to you and your friends and family.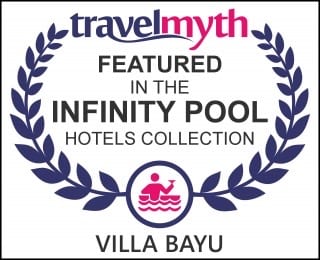 The Bukit – Hippest New Place to be in Bali
Villa Bayu is perched above the spectacular countryside of the fashionable Bukit Peninsula, taking full advantage of the breathtaking ocean views for which it is famous.
The Bukit is the perfect place to position yourself during your Bali holiday, far enough away from the traffic and tourist hustle and bustle of Kuta and Seminyak to have a properly peaceful hassle-free break, yet minutes from the well known beaches, trendy beach clubs, five star resorts, fantastic cliff-top bars and restaurants that are all around us.